If you've been staring at that old clunker in your driveway, wishing it was the latest model, then you might be interested in finding out how to get rid of an old car.
Nowadays, there are many options for junk car removal—each with its own set of pros and cons. Keep reading below to learn about these various options.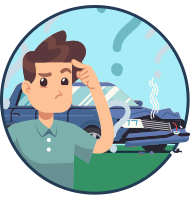 How To Get Rid Of An Old Car
Getting rid of an old car is much like getting rid of any other object that you no longer need or want. There are numerous options and resources to choose from. You just need to figure out which one best suits your needs and gives you the greatest bang for your buck.
These are some of the most commons ways to get rid of your junk car:
Sell to a junkyard.
Donate to a charity.
Trade it in to a dealership.
Sell online.
Continue ahead to find out more about each option.
Selling An Old Car To A Junkyard
When you think of old cars, you might also imagine their final resting place to be a junkyard. This makes sense especially if your car is no longer running or is covered in rust.
Many vehicles do wind up at salvage or junkyards at the end of their lifecycles. There, they are pulled apart and pieces are either resold, reused, or crushed to be recycled.
Your car might not actually be ready for this fate yet, even if it is no longer working. Plus, a junkyard will likely not give you a fair market rate.
That's because junkyards do not evaluate a car's worth by its year, make, model, or even current value in the market. Instead, its value is based on the weight of usable metal remaining on your car.
This means that the upgrades you paid for years ago might not have any value at a junkyard.
Here's a breakdown of the pros and cons of selling to a junkyard:
Pros:
Usable parts from your car can be repurposed by other drivers.
Quick way to get rid of your car.
Get paid on the spot.
Cons:
Won't get paid what your car is worth.
You will likely have to pay for towing.
You might need a ride home.
Donating An Old Car To A Charity
Donating to charity is another option if you're trying to get rid of your old car. Unlike other methods, you won't get money in return. You will, though, receive a tax deduction if you file the proper paperwork.
This process allows you to do some good while also getting rid of a vehicle you no longer want. Plus, most charities will pick up your car for free.
Making a vehicle donation, though, might not be the right choice for you if you need funds for your next vehicle.
Take a look at the pros and cons of donating your car below to get a better idea of this choice:
Pros:
You get to support a charity.
You get a tax deduction.
Charity will usually pick up the car for free.
Cons:
You don't get paid for your car.
You have to properly fill out IRS forms to get your tax deduction.
You need a written appraisal if your car is worth more than $5,000.
Trading An Old Car In To A Dealership
A popular method for getting rid of an old car is trading it in at a dealership. When you opt for a trade-in, you're able to walk into the dealer with your old car and leave with a new one.
Dealers encourage trade-ins by making them easy and convenient. They are not without their drawbacks though. Take a look at the pros and cons of trading in your car at a dealership:
Pros:
Minimal effort; dealer does most of the work.
Can use the trade-in amount toward the down payment of your next car.
Potential tax benefits.
Cons:
The dealer will likely low-ball your offer.
You'll have to pay for towing.
The dealer might not have the next car that you want.
At the end of the day, a dealer wants to make money from you. While they trading a streamlined and exciting process, you might still be missing out on a lot of profit.
Selling An Old Car Online
Even with all of these available options, there is one that reigns supreme: selling your old car online.
When you sell with Junk Car Masters, you avoid all of the hassle that comes with taking your car around town to dealers or junk yards. You also get a maximized estimate.
This is how Junk Car Masters works:
Enter details about your car into our calculator.
Accept our offer.
Schedule a free pick-up.
Collect your check!
Because we operate nationwide, one of our towing partners can pick up your old vehicle in 24 to 48 hours. Best of all, it's free and everything can be done from the comfort of your home.
Do junk yards buy old cars?
Junkyards buy all kinds of old, damaged, and unwanted items including old cars. They evaluate a car's worth by weighing it rather than assessing its current market value.
So, if you're considering selling your old car to a junkyard, make sure that you can't get a better deal selling it elsewhere first.
Can I salvage an old car?
Many old cars can be salvaged, whether it's for individual parts or metal. Depending on the condition of your car and the various systems within it, different parts can be removed and resold while the unusable components are broken down and recycled.
This method of getting rid of your old car isn't as financially beneficial as it sounds since salvage yards do not pay a fair market price for old cars.
It's a Quick and Easy Process
Vehicle Details
Provide us with your vehicle's details and a picture if asked.
Offer
Request your guaranteed offer from us online.
Accept
Accept the offer if you're happy with it.
Get Paid
In 24-48 hrs, you will get paid and have your car towed for free!
Get An Offer Online