Car prices have jumped to previously unseen levels in the last few years.These price hikes are the result of several different external pressures, but what do they mean for car buyers going into 2024?
Why Were Cars So Expensive In 2023?
Over the last couple of years car inventory plummeted and prices skyrocketed, leaving both suppliers and consumers frustrated. The factors influencing the automotive industry are shortages in semiconductor chips, the current conflict in Ukraine, and a backlog of demand.
Microchip Shortages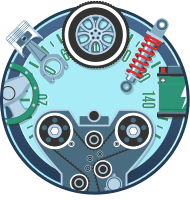 Semiconductor chips (also known as microchips) function as the central nervous system of vehicles in today's day-and-age.
They are the brains of your car and vehicles now require 40% more microchips than cars made prior to the pandemic. The average new vehicle possesses over 1000 microchips with many having 3000+ chips.
One of many effects from the 2020 Coronavirus pandemic that continues to echo in the present is the worldwide microchip shortage. Expecting a decline in car sales, car manufacturers slashed microchip orders, causing a reduction in microchip output from manufacturers.
Experts anticipate the microchip shortage will continue until mid-2024 and then it will see an annual rise of 3.6%.
Conflict Overseas
The conflict in Ukraine isn't limited to affecting the countries directly involved in combat. The interconnectedness of the current global economy means we feel the effects of those hostilities right here in the United States.
Closed Factories and Supply Shortage. Select European car factories have chosen to shut down because of the scarcity in auto parts they normally import from Ukraine. Volkswagen, for instance, has paused production on its ID.4 electric vehicle because of the war.

Material Price Spikes. Aluminum is found in virtually every vehicle and Russia is one of the world's chief suppliers of the metal. The sanctions imposed on Russia will likely impact the price of the metal within the global market.

Oil And Gas Spikes. The global price of oil continues to rise, which impacts the cost of transporting goods. The continued rise of prices can be a detriment to the auto industry as a whole.
High Demand & Backlog
Because of supply chain issues, there were less cars available at dealerships for purchase. The result was a waiting list of potential buyers and any car arriving at the dealership's lot being purchased quickly!
New cars were scarce, so buyers turned towards purchasing used cars. This increase in demand (combined with a limited supply) drove the price of used cars to levels never before seen.
As long as this low-inventory persists, the auto prices will remain high.
These factors have also had their effect on the value of scrap cars, which are being sold for more money than they were in previous years.
Will Used Car Prices Go Down In 2024?
If you're wondering "when will car prices drop again, then the answer in short is "next year." The trend so far indicates that prices for used cars will decline in the latter half of 2024, which is great news for car buyers.
Unfortunately, the price of new cars are predicted to stay high the first half of 2024 before relaxing in the later half of the year. The inflationary pressures on the supply side (specifically non-commodity costs) are being offloaded onto automakers.
The semiconductor shortage continues to persist as well. With companies needing to rebuild their inventory in order to recover from the dip caused by the pandemic and demand remaining high, the new vehicle prices may even jump higher.
The CHIPS Act should provide some reprieve for the semiconductor production industry and, in turn, eventually lower car prices.
If you're looking to purchase these cheaper cars and can't seem to find any, don't be discouraged. The common metric to track car prices is how much a buyer actually pays for the car (aka the transaction price). This is different from the sticker price.
Dealers have been…slow to lower sticker prices so that they can maximize (read as: milk) the car price surge. They are, however, more open to negotiating now that used cars aren't selling as quickly and interest rates are putting the fire under dealerships to offload inventory.
Is It Smart To Sell Your Car Right Now?
While the market isn't ideal for buyers, sellers are in a much more favorable position. With the increased price for vehicles, sellers are able to get more money than usual by putting their used cars back into the market.
The shortages of critical car parts have caused General Motors and other pillars of the automotive industry to reduce production. With supply lagging behind demand, car sellers are free to ramp up their asking prices and turn a larger profit than usual.
Where Can I Sell My Car Right Now?
When deciding if you should sell your scrap car right now, figuring out where to sell it is just as important as deciding when to sell it. Fortunately, there are multiple options for offloading your junk car for scrap and getting cash in return:
Junkyards — Junkyards and scrap yards accept cars in virtually any condition. Your scrap car can find a home at any local yard in your area and you'll get paid its weight in scrap materials to boot.
These yards will buy your vehicle quickly, but make their money off reselling usable components. They'll buy low in order to make a profit, so don't expect much more than your vehicle's weight in scrap.
Private Buyers — Private buyers are always looking for a car that suits their exact desires. Your scrap car might have parts for a passion-project they're working on. You can set a much higher price than just its value in scrap metal if this is the case.
Finding a car buyer, however, can be a massive hassle. Vetting serious candidates and haggling are the biggest concerns with going the private route of selling your scrap car.
Online Dealerships — Facebook Marketplace and eBay Motors are just a couple of the entities that have taken advantage of the online landscape. Selling your scrap car from your phone or computer is completely possible.
The issue arises in vetting the buyers, much like in-person private buyers.
JunkCarMasters Buys Scrap Cars!
When you want to offload a vehicle that's been written off as scrap, JunkCarMasters is here to help. We have over 10 years of experience in buying scrap cars. Rather than take the low offers from junkyards near you, you can get a fair price for your scrap car right now.
JunkCarMasters specializes in buying vehicles with problems, including scrap cars that are old or damaged. Don't worry about bringing your car to a repair shop — you can get a cash offer for your car when you choose us.
The entire process is as easy as 1-2-3:
Take a few photos of your car and write down its VIN. You'll want to upload those photos and VIN to JunkCarMasters. In less than 90 seconds you'll receive a quote that's good for seven days!

Schedule your pickup once you accept our quote. Towing and title transfer are always covered by us, and towing is scheduled at your convenience. A driver can pick up your car as quickly 24-48 hours from accepting our offer!

Complete the sale! When the tow truck arrives, sign over your title, hand over your keys, and take your check.
Selling your car in under a week and for the best possible price, all from the comfort of your own home ensures you'll be in the best possible position to purchase your next car and get back on the road.
When Can We Expect Used Car Prices To Drop?
If you're wondering "when will car prices drop again, then the answer in short is "next year." The trends indicate that prices for old cars will decline in 2023, which is great news for car buyers, but it means car sellers need to move fast to get the best price for their vehicle.
Is The Car Market Going To Get Better In 2023?
According to current trends, the car market is going to get better in 2023. Buyers can expect lower car prices on used cars and dealers can expect increased inventory, which is a stark contrast to the couple of years overshadowed by the coronavirus pandemic.
It's a Quick and Easy Process
Vehicle Details
Provide us with your vehicle's details and a picture if asked.
Offer
Request your guaranteed offer from us online.
Accept
Accept the offer if you're happy with it.
Get Paid
In 24-48 hrs, you will get paid and have your car towed for free!
Get An Offer Online