A working alternator is needed to get your car to turn on.
This small but mighty piece of equipment is responsible for kick starting and keeping your car battery charged. You also need a working alternator to power the radio and headlights.
So, if you notice symptoms of a damaged alternator, you need to get it repaired as soon as possible. However, there are other options if you don't want to pay for these repairs.
Keep reading to find out the pros and cons of replacing a broken alternator and what your other options are.
How Much Does It Cost To Replace An Alternator?
Just like any other vehicle part, there are a range of cost options when it comes to replacing an alternator. Factors that affect cost include:
Whether you opt for an OEM, rebuilt, or aftermarket alternator
Labor rates
The year, make, and model of your vehicle
Whether you go to a dealer or private garage
Whether you need total replacement or a part repair
Where it sits in the engine
What's the most you can expect to pay for an alternator? An OEM alternator from your car's manufacturer can cost between $100 and $1,000 depending on the make.
For instance, an OEM alternator for a Honda sedan can cost $150 while an OEM alternator for a BMW can cost $589.
Take a look at the table below to get a better idea of potential alternator repair costs:
| Part/Service | Cost |
| --- | --- |
| Whole alternator replacement | $100-$1,000 |
| Serpentine belt replacement | $50 - $200 |
| Tensioner replacement | $200-$250 |
| Labor | $50-$180 per hour |
| Installation near engine | $230-$1,200 |
| Installation away from engine | $400-$1,700 |
Evidently, alternator replacement is not cheap especially when you factor in labor costs and additional services that might be needed like a serpentine belt and tensioner replacement.
How much is a new alternator?
A brand-new alternator can cost you hundreds of dollars. This is especially the case when you buy a genuine OEM part from the manufacturer.
You do have other buying options. However, they all come with their own pros and cons. Take a look here:
Type of Part
Pros
Cons
Alternator Cost

Original Equipment Manufacturer (OEM)

Often come with a warranty.
Perfectly fit your exact make and model.
High quality, built to manufacturer standards.

The priciest option.
Can only be bought at a dealership.

$100-$1,000

Rebuilt

A budget-friendly option.
Rebuilt with new parts.
Don't have to pay for an entirely new system.

Parts that are not replaced can have a lot of wear.

$130-$300

Aftermarket

A budget-friendly option.
Is a new part.
Sometimes comes with warranties.
Widely available.

Might not perfectly fit with your vehicle.
Parts vary in quality.

$120-$550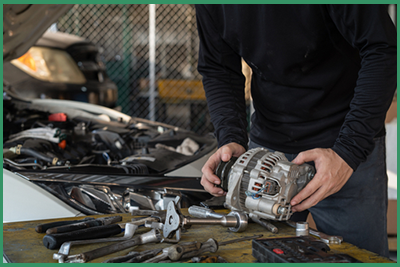 Is Changing Your Alternator Worthwhile?
If you want to continue driving your current car, it will be necessary to change out your broken alternator.
The purpose of an alternator is to kickstart the battery which, in turn, kickstarts the engine. Once your car is up and running, the alternator keeps the battery charged so that your vehicle can keep moving.
A broken alternator is one reason your car might not turn on. In fact, if you hear a clicking sound when turning your ignition key, that's a sign that your alternator might be dead. Other symptoms include:
Dimmed headlights
The smell of burning rubber
Radio malfunctioning
Clunking, growling, or screeching noises in engine
Stalling
Some of these symptoms might seem harmless, like malfunctioning interior lights, but stalling, strange sounds, and a burning smell are red flags.
Continuing to drive with these symptoms can result in your car turning off while you're driving which is a safety hazard to you and other drivers.
Should I Sell Or Fix A Car With A Broken Alternator?
Because of the cost and hassle of fixing a broken alternator, you might be considering foregoing the process altogether and selling your car instead.
We've outlined the pros and cons of each option below:
Option
Pros
Cons

Sell Car

Can get a new car.
Don't have to deal with alternator issues.
Can make money from a broken-down car.

You're not sure where to sell a car with a broken alternator.

Fix Alternator

Get to keep your current car.

Might need to repair alternator again later one.
Fixing an alternator can be costly.
At the end of the day, a broken alternator needs repair. However, selling your car as-is is a much simpler process and you can learn about it below.
Sell A Car With A Broken Alternator To JunkCarMasters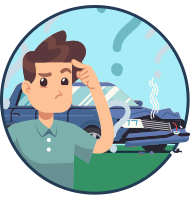 With all of the options you have for fixing your alternator, it's easy to feel overwhelmed. At Junk Car Masters, we remove the hassle.
Rather than spending hundreds on fixing one broken part, you can get hundreds or thousands on your damaged car. Take a look at how simple our process is:
You input details about your car into our calculator.
Wait 90 seconds to get an estimate.
Accept our offer and schedule a free pick-up.
Get your check!
By selling to us, you won't have to pay for a broken alternator repair or anything else. Our service is completely free and fully benefits you. Get a quote for your car today!
How much is a new alternator?
The price of a new alternator depends on many factors including whether you buy an OEM alternator from your car's manufacturer or if you opt for an aftermarket, rebuilt, used, or remanufactured part.
You can expect to spend between $100-$1,000 on an alternator, with the average driver spending $300-$500 on the part alone.
Do you have to replace a broken alternator?
An alternator is responsible for kickstarting the process of turning on your engine and keeping the battery charged. So, if you want to continue driving your current vehicle, you will need to replace your alternator.
However, the cost of an alternator can be a financial burden. In this case, you can look into selling your car as-is and using your profits to get the car you want.
It's a Quick and Easy Process
Vehicle Details
Provide us with your vehicle's details and a picture if asked.
Offer
Request your guaranteed offer from us online.
Accept
Accept the offer if you're happy with it.
Get Paid
In 24-48 hrs, you will get paid and have your car towed for free!
Get An Offer Online