Rather than selling their non-running, totaled cars, many drivers opt to junk them instead. When you junk your car, the salvage yard is buying scrap metal from your vehicle.
If this is a route you're considering for your vehicle, then it's important for you to do some research on "scrap car prices near me." That's because scrap car prices fluctuate depending on various factors.
In this article, we will explore these scrap metal prices and discuss how to sell your scrap car for cash.
Current Scrap Car Prices Per Ton Near Me
The current market for scrap cars is influenced by several factors. Like most other car sales, the year, make, and model will significantly affect a car's value. However, there are several other non-automotive factors that make a difference, including:
The global demand for recycled metals.

The availability of raw materials.

Economic conditions.

Local demand for recycled metals.
As a result, scrap car prices are subject to change. The scrap car market operates based on the weight of the vehicle, measured in tons. The value of scrap cars is primarily determined by the price of scrap metal, particularly steel and other metals present in the vehicle.
Your local scrap yard will be able to provide you with accurate pricing for your area, but currently, scrap car prices are between $140.62 per ton to $150.47 per ton. The average weight of a car is 2.76 tons, but weights can range from a little bit over 1 ton to nearly 4 tons.
So, the heavier your vehicle, the more you can make by scrapping it.
The state you live in will also impact your car's scrap price per ton. For example, the average scrap price for a car in Maryland is about $844, whereas, in West Virginia, the average price is $105.
While it might not be reasonable to travel across state lines to scrap your car, having an idea of what you can expect to get in your area helps you make the right financial decision for your needs.
What's The Scrap Value Of A Car?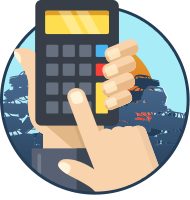 The size and weight of a vehicle play a significant role in determining its scrap value. Larger vehicles, such as trucks or SUVs, generally yield a higher scrap value due to their increased weight and higher metal content. Look at the price ranges for different sized cars:
Small cars: $100-$200

Full-size cars: $150-$300

Trucks & SUVs: $300-$500
Again, because scrap car prices are highly variable and depend on market factors, these prices can change from day to day and location to location. Take these specific models and their average scrap values, for instance:
Chevrolet Silverado 1500: $1,401

Kia Sorento: $926

Toyota Corolla: $775
Moreover, the current scrap metal prices also impact the value of a scrap car. As the prices of metals like steel, aluminum, and copper fluctuate, so does the value of a scrap car. It is essential to keep in mind that the scrap value of a car is typically lower than its market value if it were sold as a functioning vehicle.
Here are the current prices for various scrap metals in your car:
Steel: $175 per ton

Aluminum: $0.48 per pound

Copper: $2.83 pound

Platinum: $1,001 per ounce

Palladium: $1,287 per ounce
Modern vehicles are comprised of mostly steel and aluminum, with steel making up upwards of 54% of the car. With the average car having 1.08 tons of steel, you can make about $189 from scrap steel alone.
Remember that the scrap price of your vehicle can still be affected by factors like:
Time of the year

Other salvageable vehicle items and parts

Location

Market prices of new materials

Quality of scrap metal
To get an estimate of the scrap value of your car, you can multiply its weight by the current scrap metal price per ton. However, it is crucial to note that scrapyards and junk car buyers may have different pricing structures, so it is recommended to contact them directly for an accurate valuation.
Sell Your Scrap Car For Cash
If you have a scrap car that you're ready to get rid of and want to earn some cash from, JunkCarMaster offers a convenient solution. We specialize in buying scrap cars and have a straightforward sales process:
Get an offer online or by phone: Provide details about your car, such as its make, model, year, and condition, to receive an instant offer from JunkCarMaster. Our offer takes into account the scrap value of the vehicle.

Schedule pickup: After accepting our offer, you can schedule a pickup at a time that's convenient for you. We have local tow drivers nationwide, making it easy to sell your car no matter where you live.

Collect your check: When your tow driver arrives to pick up your scrap car, you hand over the keys and the title. You will receive payment immediately, with a check provided on the spot for the exact amount you were quoted.
We can have your scrap car off your lawn in 24 to 48 hours after you accept our offer. We are also haggle-free, so your quote is guaranteed.
Try out our calculator for free and find out how much you can get for your junk car today!
What are the latest scrap prices?
Current scrap prices are relatively high. It's a good time to junk your old car at a scrap yard. There is a big demand for recycled materials as new materials are in high demand, and thus are quite costly.
You can get between $140.62 per ton to $150.47 per ton for your car, especially in certain cities.
How much is my scrap car worth?
The value of your scrap car depends on several factors, including its size, weight, current scrap metal prices, and the specific requirements of scrap metal buyers. To determine the precise worth of your scrap car, it is best to contact local scrapyards, junk car buyers, or utilize online platforms that offer valuation services.
However, you can estimate your car's scrap value by multiplying its weight by the current price of each metal per ton.
It's a Quick and Easy Process
Vehicle Details
Provide us with your vehicle's details and a picture if asked.
Offer
Request your guaranteed offer from us online.
Accept
Accept the offer if you're happy with it.
Get Paid
In 24-48 hrs, you will get paid and have your car towed for free!
Get An Offer Online