Scrap car prices in Arizona fluctuate from year to year. However, the factors that affect an offer remain the same. Many things, such as the year, make, and model of the car, determine how much a junkyard will offer. How much you could get for your scrapped car depend on those and other elements.
Although we're halfway through 2023, we've crunched some numbers and learned some interesting things about scrap car prices in Arizona. Here's an overview of what we determined.
How Much Is Your Scrap Car Worth in Arizona?
As noted, we've collected and analyzed some data regarding the cost of scrapped cars in the Grand Canyon State. Our table takes into account offers made, the conditions of the cars sold, and what location they were in. Let's take a look:
| City | Average Offer in 2023 |
| --- | --- |
| Phoenix | $531 |
| Tucson | $256 |
| Mesa | $538 |
| Chandler | $563 |
| Scottsdale | $541 |
| Glendale | $543 |
| Gilbert | $568 |
| Tempe | $549 |
| Peoria | $562 |
| Surprise | $581 |
Given this data, the average offer for the most populous cities in Arizona is $470. However, that's not necessarily the offer you'll get for your used car. Your car's make, model, age, and whether you have the title play key roles in how much the vehicle is worth.
Who Buys Scrap Cars in Arizona?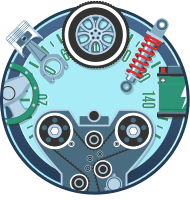 You have quite a few options when looking to sell your scrapped car in Arizona. Your choices include:
Going to a dealership. Some dealerships buy used cars regardless of their condition. However, not all dealers offer cash. Instead, they offer credits that buyers can use toward the purchase of a new car.

Having the car auctioned off. You could go to a tow yard and have your car auctioned off alongside impounded and repossessed vehicles. Getting fairly compensated isn't a sure thing. Someone could walk away with your car for pennies on the dollar, given the crowd for that day.

Listing the car online. You could post your scrap car on OfferUp or Facebook Marketplace. While this is convenient for many, you have to be aware of scammers and insultingly low offers.

Selling the car to a pick 'n pull. In this situation, you give the car to a lot that's filled with scrapped cars. Customers can come to these lots, picking and pulling off the parts they want. You could either get paid for the car as a whole or for the parts that people pick off.

Donating the vehicle to a worthy cause. There are many organizations that take used or scrapped cars as donations. They either sell the vehicles themselves to benefit their cause or repurpose the vehicles for needy individuals. Here, you wouldn't get cash, but you could write off the donation on your taxes.
Of course, there's one option that offers a secure, solid method of selling your scrapped car––and that's selling the vehicle to JunkCarMasters. Within 90 seconds, you're guaranteed an offer on your used car. Within 48 hours, you get cash in hand.
Scrap Your Car in Arizona
Selling your car to JunkCarMasters is as easy as 1-2-3! Here's what you can expect when turning your clunker into cash:
You give us some basic information. We'll ask for your car's make, model, year, mileage, and other basic details. It takes no longer than two minutes to fill out our easy-to-follow form.

We make an offer. We don't care if your car hasn't left the driveway in years. Your vehicle is a treasure trove of precious metals and other components that all have a cash value. We make an offer that accounts for current market trends, your car's condition, and your location.

You get paid. JunkCarMasters works for you––not the other way around. We schedule a time to tow your car when it's convenient for you. All we need is the keys, the title, and clearance for our truck.
We know that there are dozens of used-car buyers online that all claim to offer top-dollar for clunkers. Yet, when it comes time to pay up, many of these organizations go back on their word––and suddenly, what was once a three-figure offer dwindles into nothing.
You'll never have to worry about that quality of service with us. We put money exactly where it belongs: in your pocket. You don't have to worry about tiny fine print, complex jargon, or surprises. It's never been easier to sell your scrapped car.
Do I Keep My License Plate When I Sell My Car in Arizona?
How Much Can I Get for Scrapping My Car in Arizona?
There is no one-size-fits-all formula for determining how much you can get for scrapping your car.
How much you can get in Arizona depends on many factors, including your car's age, make, and model. Other factors that affect how much you can get include the car's mileage, condition, and even its color.
Can I Sell a Car if I Don't Have the Title?
You cannot sell a car if you don't have the title––and you shouldn't sell your car to an organization that doesn't need it either. The title shows that you legally own the vehicle, and you generally get it within weeks of paying off your car's loan.
If you paid off your vehicle but misplaced the title, don't worry; this is an easy fix that JunkCarMasters can work with you on. For instance, we can explain what local agency could supply a duplicate title. If you don't have the title because you still have a remaining balance, you could use part of the money you get for selling your scrapped car to pay it off.
It's a Quick and Easy Process
Vehicle Details
Provide us with your vehicle's details and a picture if asked.
Offer
Request your guaranteed offer from us online.
Accept
Accept the offer if you're happy with it.
Get Paid
In 24-48 hrs, you will get paid and have your car towed for free!
Get An Offer Online