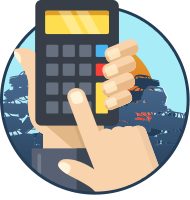 What To Do With A Car That Doesn't Run
All cars eventually reach a point where they just won't start. The reason behind a car dying can vary from worn mechanical components to dead engines and more.
Fortunately, a non-running car still retains some of its value and can be sold for cash if repairing it is out of the question.
If you want to get your non-running car sold now, check out our instant value calculator.
Keep reading to find out how to maximize the value of your non-running car.
Find Out How Much Your Non Running Car Is Worth
In general, you can't expect a non running car to be worth more than 20 to 40 percent of an equivalent, running car.
If your 2010 Honda Civic is worth $8,000, a non-running equivalent would probably be worth no more than $3,200 — and could be worth less, depending on other factors like the condition of its parts and body.
Depending on why it's not running, it could make sense to fix it — if it's something as simple as needing a dead battery, for instance, it probably doesn't make sense to give the car up.
However, if you're facing serious engine issues or your vehicle has depreciated significantly over time, chances are even moderately expensive repairs are no longer worthwhile.
So what do you do with a car not worth repairing?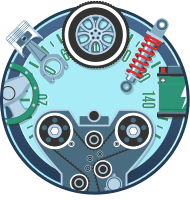 Options For Selling A Car That Doesn't Work
There are several ways you can sell your vehicle that doesn't work. They all depend on how quickly you want the car sold and how much money you want to make.
Junkyards and scrap yards accept vehicles in virtually any condition, including ones that don't work. They purchase them quickly, but make their profit by buying as low as they can (including a bit of haggling) and reselling whatever parts can be recycled.

More often than not, they will purchase the vehicle for its weight in scrap metal.

Dealerships that accept cars "as is" also purchase non-running vehicles. They, like junkyards, will purchase a vehicle quickly, however, the money offered is likely a credit to be applied on your next vehicle purchased from that exact dealership.

Furthermore, dealerships specialize in getting roadworthy cars sold; a non-running car is likely to get lowballed when being sold to them for that very reason.

Private buyers aren't bound by pricing or condition constraints. If your model is a popular one, buyers will want it regardless of whether it works or not.

However, finding and vetting a prospective buyer for your non-running car can take a long time and involve negotiating with strangers, which can be uncomfortable.

Selling your non-running vehicle online is a great way to reach a larger audience of potential buyers. Platforms like Craigslist, AutoTrader, and Facebook Marketplace are just a few of the online avenues where you can sell your car.

There may be more buyers that buy broken cars than you'd expect, but they all have the same idea – to buy your car or van for as little money as possible.

Then you get to JunkCarMasters. We're pretty confident we're the best option on the market — we pay cash for cars, running or not!
JunkCarMasters Buys Non-Running Cars – As Is!
JunkCarMasters is the best place to sell non-running cars — we specialize in cars with problems, damaged cars and end-of-life cars, no matter what's wrong with them. The process couldn't be easier!
Get a free, guaranteed quote in just 90 seconds!
Your quote is guaranteed for seven days, giving you time to decide on us as an option.
Get a free vehicle retrieval!
Once you've accepted your quote, pick a time that works for your schedule. One of our tow partners can come to you in as little as 24-48 hours for absolutely no charge!
Get paid!
Once your non-running car is hooked up, you get the entire quoted amount put directly in your hands. We emphasize peace of mind for our customers, so there's no haggling whatsoever on our part.
It's a quick and easy way to sell your non-working car, no matter what condition it's in. So, give it a try!
How Much Is A Non Running Car Worth?
The value of your non-running car depends on a variety of factors including why it doesn't run, what condition it's in, what kind of car it is and more. It's impossible to provide a single guess — it could be anywhere from a few hundred to several thousand dollars. Luckily, JunkCarMasters is prepared to figure out exactly what your car is worth in just 90 seconds, and pay you on the spot for it in 24-48 hours.
At JunkCarMasters, we provide instant, fair-market quotes with free towing and title transfer included. Our associate buyers can walk you through the process of selling your car, saving you the fuss and hassle, and there are never any fees or cumbersome negotiations when you use our service. Get an offer now and sell your non-running car for cash today.
Who Buys Cars That Don't Run?
Generally, junk car buyers will specialize in buying cars with problems, including cars that don't run. Dealerships and private individuals are less likely to make a fair-market offer for your vehicle, especially if the cost of fixing the problems are expensive.
At JunkCarMasters, we always specialize in buying junk cars, including cars that can't run. We can make top dollar offers for non-running cars in 90 seconds with FREE towing and title transfer included. If you like our quote, we can come to you and pick it up in less than 48 business hours!
Get an offer today and find out what your non-running vehicle is worth in just 90 seconds. There's no obligation, no haggle and no hassle!
What's The Best Way To Sell A Non-Running Car?
The best way to sell a non-running car is to get an offer with JunkCarMasters! We specialize in buying less-than-perfect vehicles, including vehicles that don't run or start, and we can make an offer for it in less than two minutes. Our offers come with free towing and title transfer included — there are never any fees for using our service.
Don't spend ages hunting down a fair offer or negotiating with buyers that want to undervalue your car or saddle you with expensive towing fees. Get an offer from JunkCarMasters and skip the fuss now.
Can You Get Money For A Car That Doesn't Run?
You can absolutely get money for a car that doesn't run. Keep in mind, however, that whatever is causing it to not run will impact the car's value negatively. Buyers will take into consideration having to pay for repairs before agreeing to the price they will pay for your car.
Who Buys Cars That Don't Work?
The most likely buyers of non-running cars are junkyards and scrap yards. They will purchase the vehicle for its weight in metal and then part it out before scrapping the rest. Dealerships and private buyers don't specialize in non-running cars, but they may purchase them as well.
It's a Quick and Easy Process
Vehicle Details
Provide us with your vehicle's details and a picture if asked.
Offer
Request your guaranteed offer from us online.
Accept
Accept the offer if you're happy with it.
Get Paid
In 24-48 hrs, you will get paid and have your car towed for free!
Get An Offer Online