Your car is old and could use some repairs, but does that mean it's ready for the junkyard? Below, we dive deeper into this question and help you figure out when it's time to junk your car.
When Should You Junk Your Car?
Is your old hot rod looking more like a heap of metal? Maybe it's been a few months since you've taken it out on the road for fear that it will break down on you (again).
These are just two scenarios that might have you considering if your vehicle is ready to hit the junkyard, but there are many more signs signally that your car should be sent to a junkyard:
High repair costs: Whether you've been in a major accident or your car is simply at that age where everything needs a replacement, your repair costs might just be too high to keep your car. This is especially the case if the cost of repairs is higher than the value of your vehicle.
Your car has too many issues: If your car is in the shop more often than it's on the main roads, then it might be time to junk it. It's not serving its purpose of getting you around reliably and is likely burning a hole in your pocket.
No one is interested in buying: There are many car enthusiasts out there who love repairing old or damaged cars, but for some reason, no one is buying yours. If you've been actively trying to sell your car for months and haven't received any good offers, then it might be time to junk it.
Missing parts: This is one of the biggest reasons for junking a car, especially if the parts you're missing are major like a catalytic converter or transmission.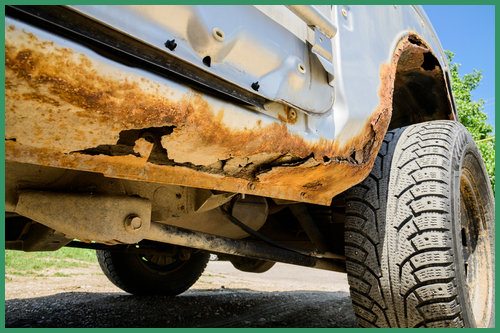 Unsafe to drive: Some vehicle issues make it hazardous to drive your car. Whether crucial parts are too worn out or an accident severely damaged certain car components, a car that is unsafe to drive may be ready for the junkyard.
Extreme rust: Rust is awful for cars. Not only does it look bad on the outside, but rust in internal components can be dangerous and costly.
Totaled: In many cases, a totaled car cannot be restored and if it can, it might not be financially responsible to do so. So, if your car is totaled, it might be time to junk it.
What To Do When Junking A Car
Junking a car might sound easy, but there are actually numerous steps that you need to take. Here's a step-by-step breakdown of car junking:
Remove personal belongings and documents from your car like car seats, sunglasses, and chargers.

Gather important paperwork such as the car title, insurance, and registration.

If possible, remove valuable car parts for reselling like the GPS, entertainment system, tires, rims, and the catalytic converter.

Remove the license plate.

Note down your vehicle's information like the year, make, model, trim, VIN, mileage, and condition.

Find junk car buyers or check out local junkyards—make sure they are licensed.

Get estimates from prospective junk yards.

Set up a pick-up time after settling on a buyer.

Complete proper paperwork.

Make sure to get paid in cash and not by check.

Notify the DMV and your insurance company that you have junked your car.
How To Get Rid Of A Junk Car Online
There are a few ways to get rid of your junk car online.
One popular method is to sell on sites like Craigslist, eBay, or Facebook Marketplace. There are tons of buyers on these websites looking for junk cars to fix up.
However, this method requires a lot of heavy lifting on your end. Besides preparing your car for sale, you'll also need to create a listing, take pictures, and meet with potential buyers.
This can be tedious and time-consuming.
Another option is to sell to online junk car buyers. There are many digital companies that buy junk vehicles, allowing you to bypass the listing process. However, not all offer great prices for old and damaged cars.
JunkCarMasters, though, strives to provide the best estimate for your car and a straightforward selling process. Learn more about how we make selling your junk car online simple below.
Sell Your Junk Car Online With JunkCarMasters
As you've learned, there's no need to junk your old, damaged car — there are other options including selling to JunkCarMasters.
Unlike other online buyers, we handle everything including towing. This means that you don't need to get quotes from your local tow truck companies. We will pick up your junk car for free. You just need to have your keys and title ready.
All you have to do is follow these simple steps:
Enter the details of your car into our calculator.

View your estimate and press accept.

Schedule your vehicle pick-up.
Once a driver comes, he or she will hand over your check and remove your car.
The whole process takes between 24 and 48 hours to complete and you get to do it all from the comfort of your home.
How do I know when to junk a car?
There are several ways to know when it's time to junk your car. For one, if it's costing more to repair than it's worth, then it might be time to scrap it.
Moreover, if it spends more time in the shop than getting you where you need to go, or it's unsafe to drive, then you can consider it junk.
How much does it cost to junk a car?
Junking your car doesn't have to cost anything when you use the right service. In many cases, the most expensive part of junking a car is the towing cost. The average cost for this is about $110 if you're towing within city limits.
However, if you need a farther tow, a company might charge anywhere between $2 and $7 per mile.
JunkCarMasters, though, doesn't charge for towing services so you only get paid when you sell to us.
It's a Quick and Easy Process
Vehicle Details
Provide us with your vehicle's details and a picture if asked.
Offer
Request your guaranteed offer from us online.
Accept
Accept the offer if you're happy with it.
Get Paid
In 24-48 hrs, you will get paid and have your car towed for free!
Get An Offer Online